Are you tired of your car's door sills getting scratched and scuffed every time you or your passengers enter or exit the vehicle? If so, it's time to invest in a trendy and decorative door sill guard. This simple yet effective accessory can protect your car's sill area from damage while also adding a touch of style to your vehicle.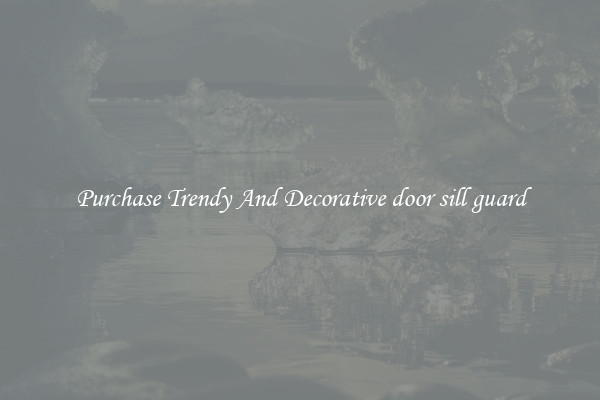 Door sill guards are typically made of high-quality materials such as stainless steel, aluminum, or carbon fiber. These materials are not only durable but also resistant to rust, corrosion, and scratches. This means that once you install a door sill guard, you won't have to worry about it getting damaged easily or losing its sleek appearance over time.
One of the main benefits of using a door sill guard is the prevention of scratches and scuffs. The sill area of your car is particularly susceptible to damage because it is constantly exposed to the elements and the daily wear and tear of getting in and out of the vehicle. With a door sill guard in place, you can say goodbye to unsightly scratches and preserve the original finish of your car.
Additionally, door sill guards can enhance the overall look of your vehicle. They come in a variety of designs, patterns, and finishes, allowing you to choose the one that best matches your car's interior or exterior. Whether you prefer a sleek and modern design or a more elegant and sophisticated look, there's a door sill guard out there for every taste and style.
Furthermore, door sill guards are incredibly easy to install. Most of them come with adhesive backing, allowing you to simply peel off the protective film and apply them directly to the sills. No tools or professional installation are required, making it a hassle-free process. Moreover, they can be easily removed without leaving any residue, in case you decide to change or clean them.
When purchasing a door sill guard, it's important to choose one that is custom-fit for your vehicle. This way, you can ensure that it fits perfectly and doesn't interfere with any existing features or buttons. Additionally, make sure to check the dimensions and compatibility of the guard before making a purchase.
To sum up, a trendy and decorative door sill guard is a great investment for any car owner who wants to protect their vehicle from scratches and scuffs. Not only do they provide a layer of protection, but they also add a touch of style and elegance to your vehicle. So why wait? Upgrade your car's appearance and safeguard its sills with a door sill guard today.