Delicious Beef Stew Noodles in Various Flavors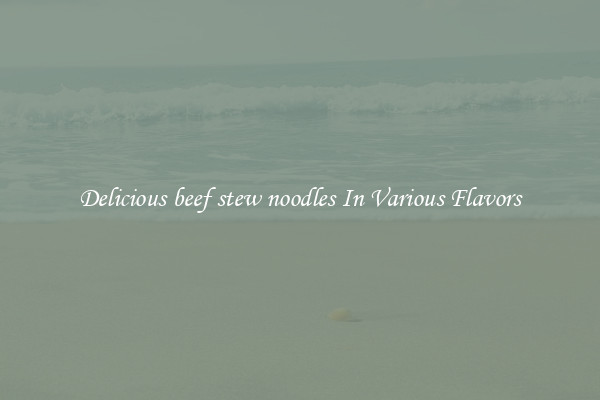 Beef stew noodles are a comforting and hearty dish loved by many across the globe. The combination of tender beef, flavorful broth, and chewy noodles is simply irresistible. The best part is that this dish comes in various flavors, each offering a unique taste experience. Here, we will explore some of the most delicious beef stew noodles in different flavors.
1. Classic Beef Stew Noodles:
The classic beef stew noodles are a timeless favorite. The beef is slow-cooked to perfection with carrots, onions, celery, and a blend of aromatic herbs and spices. The result is a rich and hearty broth that pairs perfectly with the chewy noodles.
2. Spicy Szechuan Beef Stew Noodles:
For those who enjoy a kick of heat, the Szechuan-style beef stew noodles are a must-try. The broth is flavored with fiery Szechuan peppers, chili oil, garlic, and ginger, creating a bold and mouth-watering combination. The tender beef and noodles balance out the spice, making it a fantastic choice for spice lovers.
3. Japanese Sukiyaki Beef Stew Noodles:
Sukiyaki-style beef stew noodles have a distinct sweet and savory flavor. The broth is made from a combination of soy sauce, mirin, sake, and sugar, resulting in a rich and slightly sweet taste. The addition of vegetables like mushrooms, tofu, and Chinese cabbage adds depth and freshness to the dish.
4. Vietnamese Pho Beef Stew Noodles:
Pho beef stew noodles bring the flavors of Vietnam to life. The broth is packed with fragrant herbs and spices like star anise, cloves, and cinnamon, giving it a unique and aromatic taste. Served with fresh bean sprouts, basil, lime, and chili, this dish offers a burst of refreshing flavors.
5. Korean Galbitang Beef Stew Noodles:
Galbitang beef stew noodles are a popular dish in Korean cuisine. The broth is made by simmering beef short ribs with dates, garlic, and other aromatic vegetables. The result is a clean and delicate taste that is deeply satisfying. Garnished with green onions and sesame seeds, it is a dish that will leave you craving more.
No matter which flavor you choose, beef stew noodles are sure to be a delight for your taste buds. Each version offers a unique and delicious experience that will warm your soul. So the next time you're in the mood for a comforting bowl of noodles, consider trying one of these flavorsome beef stew noodle dishes.